5 Unique Outdoor Team Bonding Activities with Your Colleagues
At One Dynamics, we pride ourselves to design and conduct new and fun team building games that are unique for our corporate clientele. These programs are not offered elsewhere, and we customize the games and activities to suit your company's needs and corporate values. We believe that not every team building program should be the same.
Here are 5 unique outdoor activities that can promote team bonding and guarantee your team lots of fun:
1. Monopoly Race
Introducing our latest addition to ONE DYNAMICS Team Building Program: Monopoly Race. Like Monopoly Board Game, but now you get to play it LIVE – travel to different "property locations", pay rents, draw lots and more!
Upon reaching different property locations, teams will have to complete several monopoly related challenges before they can do any actions on the properties. Teams are challenged to make strategic decisions, allocate suitable resources, and also handle disagreement if there's any.
This game focuses a lot on teamwork rather than speed and is definitely a thrilling and unique corporate teambuilding event you wouldn't forget!
The winning team will be determined by the highest amount of money they have collected at the end. Let's start the race and may the richest of all be the champion!
* Recommended Group Size: 10 – 50 Pax
2. ZOVB Games and Life-Size Bowling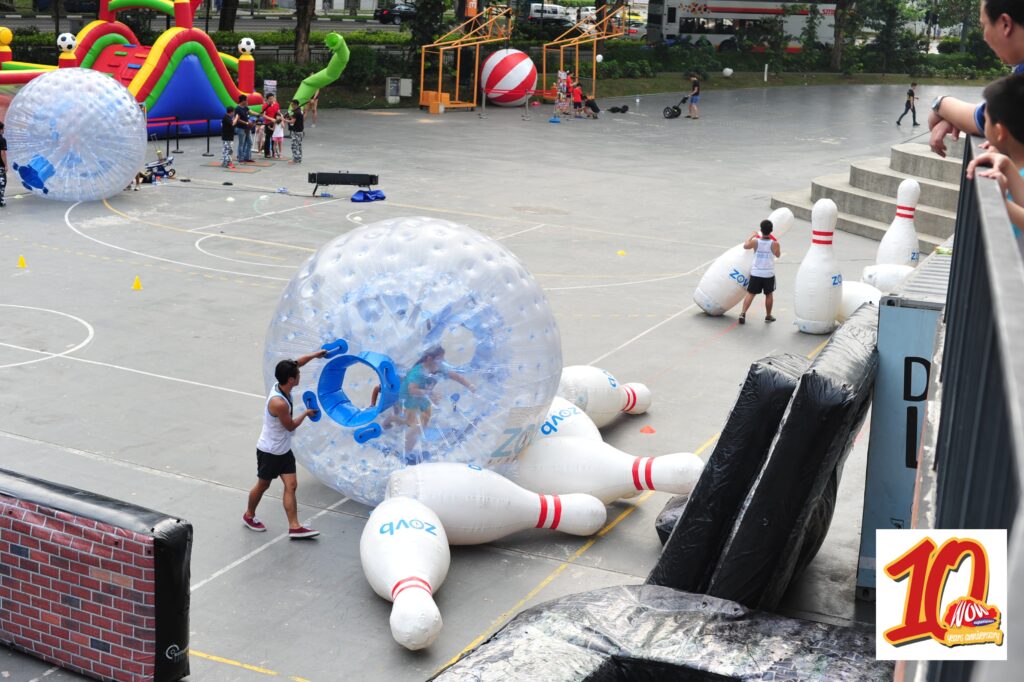 Have you ever wondered how running in a hamster wheel or rolling in a ball would feel like? Now you can know it for yourself! ZOVB games were once only available in New Zealand. But now, it is available right here in the heart of Singapore.
Strap yourself up with the harnesses in the ZOVB and get ready for a rolling good time as you tumble and turn with smiles on your faces. Jump into the ball in pairs and race others in our ZOVB land obstacle course or to spice up the game, you can even challenge your colleagues to a game of life-size bowling in the ZOVB!
This activity is great for small groups from 10-20 pax looking for a social gathering of fun in the sun!
3. Combat Skirmish Laser Tag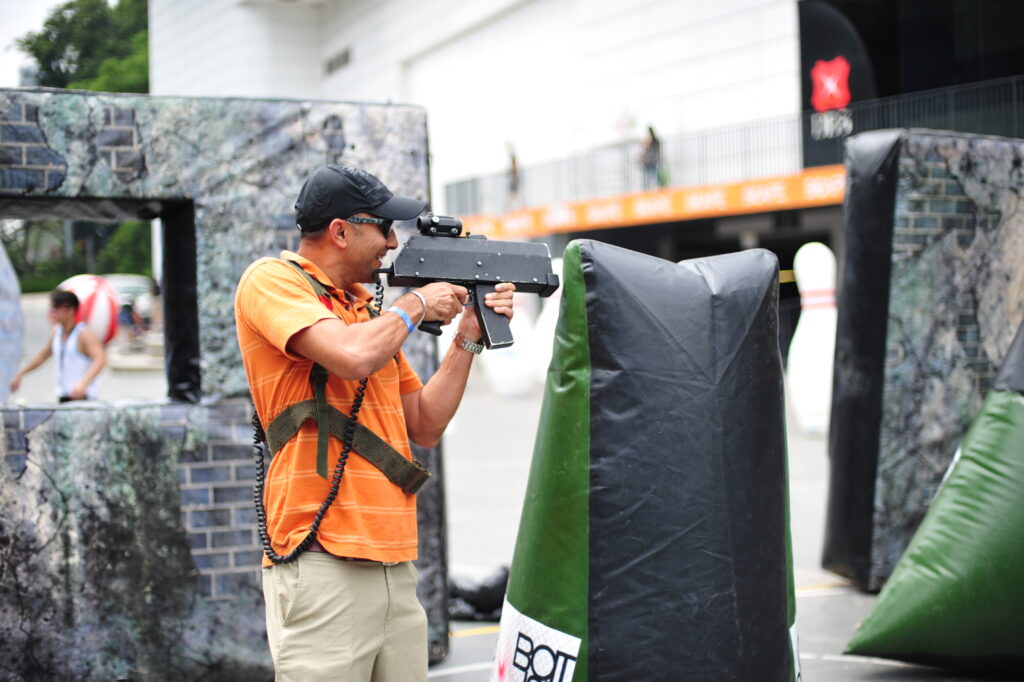 Combat Skirmish Laser Tag is the pioneer leader of mobile laser tag gaming in Singapore. Combat simulation games are fully customizable to suit various objectives.
Whether your team is looking to foster cohesiveness, improve morale or build stronger bonds amongst your team, Combat Skirmish promises maximum engagement and bottom-line achievements.
This activity is excellent for big groups looking to be outdoors and have lots of fun in the sun!
4. Running Man Challenge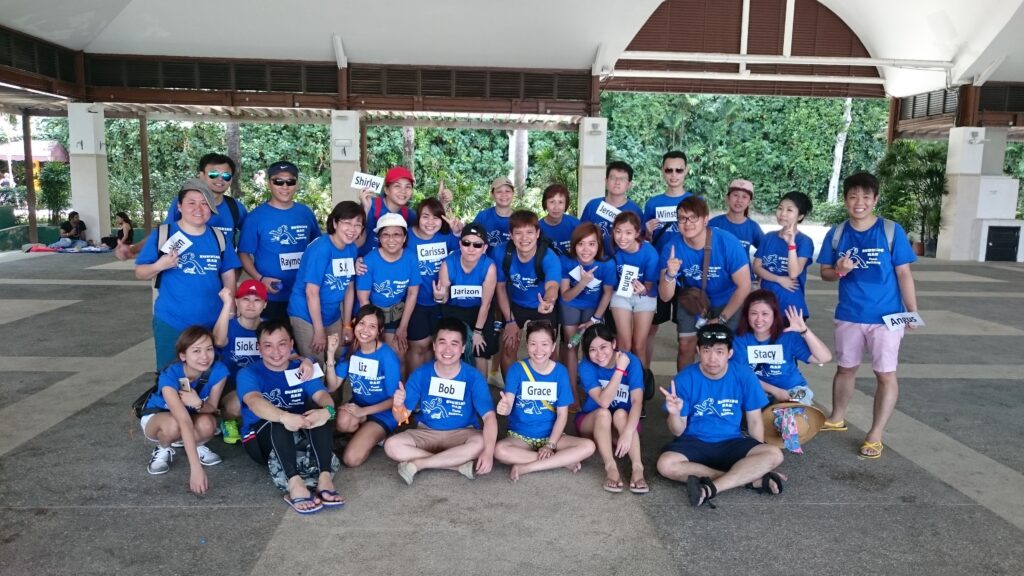 Like the popular Korean Variety Show 'Running Man', participants will be grouped together to perform crazy antics and team building tasks at the same time.
Unlike your typical amazing race session, we have specially created this customized challenge for corporate team building groups to fit various objectives ranging from establishing connections to building stronger trust and bonds.
This activity is excellent for big groups looking to have a fun get-together session!
5. Crystal Lagoon Water Sports Park Challenge in Treasure Bay, Bintan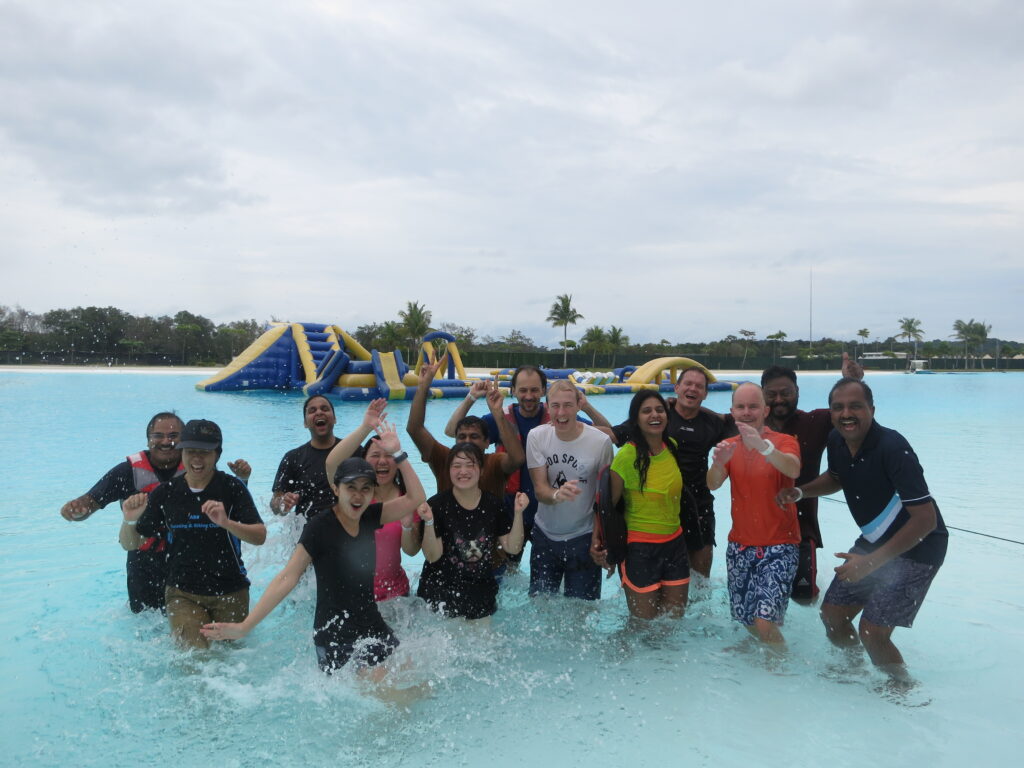 Although borders are still closed, we are expecting travel bubbles between Singapore and Bintan after Prime Minister Lee Hsien Loong met Indonesian President Joko Widodo on 25 January 2022 for the Singapore-Indonesia Leaders' Retreat.
With that, topping the list for our most unique and popular team building activity is the Crystal Lagoon Water Sports Park Challenge in Treasure Bay, Bintan!
Teams are challenged to complete missions while racing through the huge inflatable water park! You also get to experience and enjoy the full set of water sports equipment such as stand-up paddle, kayak and water-bike in the middle of Crystal Lagoon – a team building experience like no other!
* Recommended Group Size: 10 – 50 Pax