Outdoor Team Building
One Dynamics offer a wide range of Outdoor Teambuilding Programs as well for you to choose from. We are also constantly developing new programs to suit all our customers' needs. Below are a few samples of our programs. The list is not comprehensive so do drop us your contact details and enquire what other programs we have. You can do this for just half a day or combine it with an Indoor Program to fit your whole day's schedule. If you already have something in mind, tell us your requirements and you will awe by our creativity and innovation.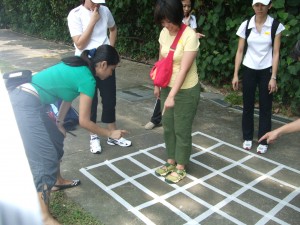 Amazing Race – An all-time popular game for everyone. This race is not just a simple treasure hunt but comprises of meaningful traits and teambuilding elements at every station that you visit. You are not only exposed to navigation skills, you will also be having lots of fun and a good time bonding with your colleagues too. The latest edition of our Amazing Races bring to you a technology-centred one where each team will have individual IPads to navigate and complete tasks together!
Beach Olympics – As the name speaks for itself, it's a day out at the beach with lots of fun and laughter. At your desired beach, we will be conducting a series of short games with a punch. You can be bridging a water obstacle, stacking one another on a pyramid or simply playing a few simple modified beach ball games which are suitable for all ages. Whatever it is, it's a session of pure fun and bonding for your team. 
Low Elements Challenge Course – The Low Element Course consists of a series of obstacles created to improve on teamwork and unity amongst team members. You can expect to be blinded and guided through the obstacles by your teammates or having to lend a helping hand to friends who are less confident in clearing the obstacle. In any sense, we believe these obstacles are a symbol of challenges, which gives an opportunity to the participant to boast their confidence and bond the team together.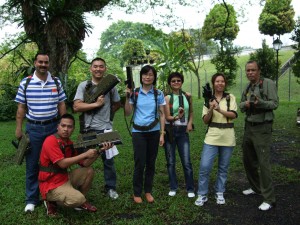 Combat Skirmish – Think paintball but in a much safer, fun and relaxing environment. The tagline being "Combat Fun without Bruises", Combat Skirmish uses infra-red rays to bring across effective teambuilding sessions through combat simulation games with different objectives. Participants are required to think on their feet as an individual as well as a team. 
Dragon Boating – Dragon Boating emphasises on team work and the never-say-die spirit. Be prepared to enjoy a fabulous work out together and the thrill of cutting through the waves as you row as one uniformed body. If you are looking for an activity that bonds you and your peers, this is the perfect sport for you!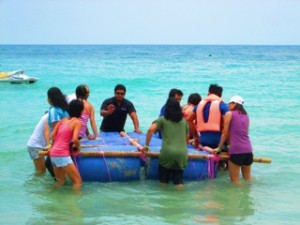 Rafting Adventure – Ever imagined yourself to be stranded on an island? Raft building could be the answer to your survival! Learn basic raft constructing skills in a fun but enriching session. Construct the raft using raw materials and put it to test in the water and using it to achieve some team objectives. Teams will get to challenge each other base on how fast their vessel can travel and creativity in design!
Singapura Heritage Escapade – Think you know the Singapore story? Challenge yourselves through this programme that involves completing tasks and finding hidden 'gems' of historical significance, cultural explorations and even food hunts around central Singapore. For visitors, this is a great way to explore our sunny island and learn more about what makes Singapore tick!
Kelong Kayak – Singapore originated as a fishing village and how many of us have been to a real kelong before? This program enables your team to experience this back to basic feeling in a kelong. They will start off with a bit of kayaking orientation and head to a kelong to learn how life is like on one. Optional BBQ could be arranged as well.
Laser Clay Shooting – If you have heard about Clay Pigeon Shooting or Clay Shooting, we are the same but much safer and greener! We can cater for your coporate needs, providing you with the equipments and reliabe service that offers a safe and fun laser clay shooting experience. We can focus on individual or team achievement and tailor a session to suit your individual company needs, whether you want it to be competitive, or just a fun and relaxed session for you and your colleagues. It's definitely a good session to bond your team together while you coach one another on the techniques of shooting and give encouragement.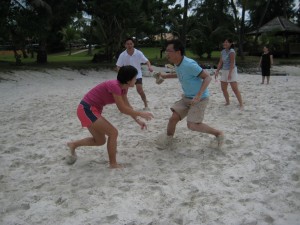 Mini Olympics – This consists of various modified Olympic-styled games where your group will need to compete with each other to emerge Champion. It promotes team spirit, bonding, team work, encouragment and getting to know one another better.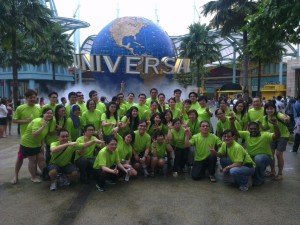 Universal Studios Singapore Fun Race –The Universal Studio fun race adds a punch into the whole experience in the rides of the attraction. Participate in seemingly impossible challenges as you go through the various rides in the theme park! The challenges are in place to break your teams into laughter and make a memorable session a team oriented one!
Running Man Challenge – Modified from the popular Korean variety programme – Running Man, we have a specially crafted version for corporate team building groups! Compete in mini-games, mass games and the final iconic name-tag elimination challenge in our Running Man Challenge. Race to the ends of Sentosa in a challenge to be the last surviving team! Receive your Running Man mission cards via an IPad that continuously prompts you with clues, hints, games and challenges along the way!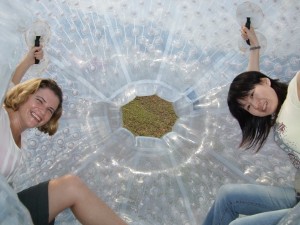 Zorbing – Are you sick of the typical commmon teambuilding games where there is no creativity, no fun and no excitement in them? Looking for new ideas for your colleagues to have a session of fun time together out of the office? You are looking at the perfect activity for your group! ZOVBING is an all new activity here in Singapore and would be able to meet the needs for your comapany. We do this outdoors and some people like to call this "adventure teambuilding".
Multi-Activities Carnival – Enjoy the best activities all in one day! Ranging from Combat Skirmish, Land ZOVBing, to BLOOP Soccer, Laser Clay Shooting, it's all the activities in one event. Suitable for large groups of over 300 pax, massive sports day, or family day events.