Indoor Team Building
One Dynamics offer a wide range of Indoor Team building Games for you to choose from. We are also constantly developing new programs to suit all our customers' needs. Below are a few samples of our programs. The list is not comprehensive so do drop us your contact details and enquire what other programs we have. If you already have something in mind, tell us your requirements and you will awe by our creativity and innovation.
Game Show Night – A combination of popular television game shows into one game show night -Team Challenge style. Each game station represents a game show, ranging from 'Wheel of Fortune', 'The Price is Right', 'Win, Lose or Draw', 'Don't Forget the Lyrics' and many more. Teams move around different stations to score as many points they can in each station in order to win clues for the Finale Game Show – "Who Wants To Be A Millionaire". A relax, easy and fun team building program which unwinds the whole company. 
Builder Quest – This game focuses on the team dynamics and day-to-day relations between colleagues in an office environment. Apart from the main task of building, as its name suggests, additional scenarios depicting a real-life office environment will be thrown into play while observations will be done on the participants' actions and reactions on each presented scenario. This game will be able to foster better understanding between colleagues, working together in diversion, multi-tasking within a team and improving day-to-day communications and correspondence.
Criminal Scene Investigation (CSI) – As a mystery solving team building game, CSI requires the group to break into smaller teams to solve a pseudo-criminal case through investigation and visiting 'crime scenes'. It will be conducted through a role-playing scenario with participants being the investigation team and facilitators being the 'case suspects' that teams need to interview.  
Office Mechanics – This activity targets on the effectiveness of communication within and between teams. More often than not, members are faced with breakdown in communication whether in the spoken or unspoken forms. Hence, this game allows teams to explore better and more effective ways of communication through a fun and enjoyable game setting.
Minute to Win IT! – Seen the popular TV programme and want to try it with your colleagues? We offer the version of 'minute to win it' challenges that guarantee a fun time for all! Each task will require one or a few of the team members to participate and achieve the best results within the minute. Through a series of games, the team that accumulates the most points is crowned champion!
Funk Up Commercial Break – Best suited for new staff recruitment orientation! Or groups that often feel mentally drained out and have no inspiration for ideas and need a short-break to get everyone involved in a brain-storming session, unleashing talents and creativity for its company products through a developing, directing and acting out a series of commercial break advertisements with lots of hilarious "must-do" insertions along the way. Definitely a fun and lots of laughter type of team bonding program.
I-HUNT Mall Race – Race made different by incorporating technology in our specially customised team building program; targeted to inject the multi-elements of fun, new technology and teamwork all in one activity. Each 'Hunter' team will race around the designated event location via the GPS-enabled system on their team's IPAD which will prompt them directional instructions, quizzes, station tasks, photo challenges etc as they progress through the race in the malls! 
Quiz Night / Family Feud – In this Quiz Night/ Family Feud Spin-off, teams will compete to answer the most popular, funny but logical answers to the quizzes. Each round begins with a face-off question that serves as a toss-up between multiple opposing teams. There will be a list of certain answers that will be concealed on the board, it will only be revealed if the contestant gets the answer right. Giving an answer not listed on the board or failing to respond within the allocated time, will lose a point for the team. Recommended for groups who are seeking an exciting fun and relax day to get everyone energized!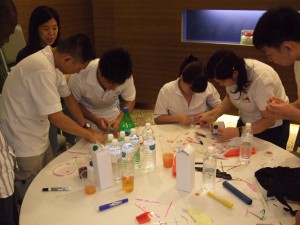 Creative Juice – Drinks on the house! You'll be creating your own concoction of drinks within your assigned teams to name, package and sell it to the rest of your colleagues. You will be given a chance to unleash your creativity and entrepreneurial skills in developing a new drink which might turn out to be a block blaster in your office pantry. Teams will need to work closely together to iron out all matters involving taste, branding, packaging and presentation.
Inside Out – Want to discover your own as well as your colleagues' strengths and weaknesses? This is the game that will bring out the best in you as well as help you tackle your shortcomings, allowing you to understand others through fun and interesting game concepts. A series of icebreaker and teambonding games that everyone can get to participate together, switch the people around and understand each other better. Suitable for bonding, pure fun and excitement.
Joint Worx – A series of indoors activity done with pipes as a tool to connect you and your colleagues. The activities can be as simple as building the tallest free standing structure to constructing a structure with a specific requirement. As simple as the tools may seem, these activities will definitely give you a good view of the learning values ideal for your working environment.
NUS Electronics Town – This activity brings us back to the basics. Think "Sim Town" computer game concept where players are tasked to create a small town. The participants are given a town board that they are supposed to reconstruct an Electronics Town. Each team will build a town component – Commercial, Residential, Industrial, Ports. Each town component will have its own requirements to build. Scenarios will be thrown into play while observations will be done on the participants' actions and reactions.  The end objective of the town is to light up the town with the given electric wirings. Teams are needed to plan and execute their own town component, before coming together to make up the Town as a whole. This game focuses on the team dynamics, working together in diversion and multi-tasking within a team. It also gives participants to unleash their creativity. 
Rock Band Team Building – The latest team building program here in Singapore! A fun and comfortable session where participants will be learning to play different instruments such as guitar, drums, keyboard, bass, percussion and even fulfilling your dreams of being lead singer! The session will take approximately 2 hours. Our experienced professional trainers will be teaching participants how to play a song on their assigned instruments and by the end of the session participants will be coming together to perform the song together! What better activity for fun, learning a new skill and teambuilding all at the same time!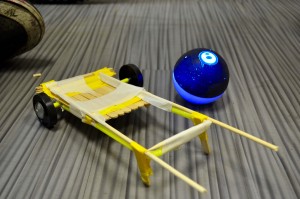 Robots in Teambuilding! – Looking for something totally new and fun in a teambuilding activity? The Wow Experience once again brings to you something unique by incorporating robotic gadgets in our specially customized teambuilding programme, the 'Sphero Grand Prix'! Be part of a team that conceptualizes and constructs a race course for this latest gadget, 'Sphero' – which is a spherical robotic ball with various capabilities controllable via a mobile device. Seize this opportunity to try your hands on this gadget as part of our teambuilding programme, where you will not only get to build the Grand Prix course for 'Sphero', but also maneuver and race the robot! Contact us today to find out more about this programme!
Indoor Wacky Olympics – Imagine various fun 'never-played-before' heats that you compete in individual stations against other teams. Try out in unique games such as 'mini-golf putt, 100m team caterpillar race, parachute volleyball, human foosball etc. The winning team is the one who completes all heats in the best timing and deserve a head-on competition with the runner up teams!